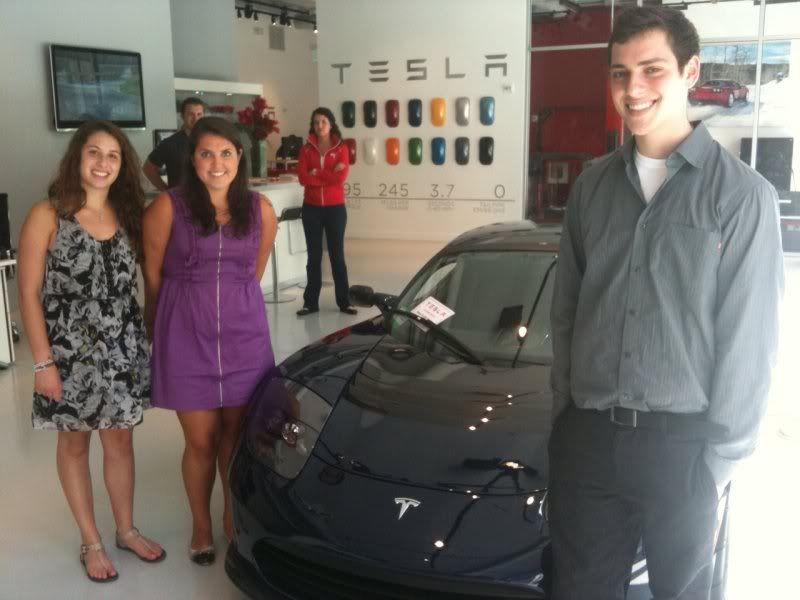 Last Thursday, the staff at Tesla Motors' Washington, DC, showroom were nice enough to let us stop by and learn more about the infamous
Tesla Roadster (seen above with SmartPower's DC interns Sarah Kiner, Chandler Clay and Mark Ellis). Things you might not know about the Roadster:
It gets 254 miles per charge.
A full recharge only costs $5 in electricity.
Tesla batteries last 7-10 years.
There will be no more than 2,500 Roadsters manufactured, ever.
No charging station necessary! The car in the showroom was plugged into an outlet in the floor.
If you do the math, that's a pretty great value. Yet the Roadster is meant to be a novelty – it starts at $109,000, and you can't fit more than golf clubs and a friend into it – and Tesla will stop producing them at the end of this year. After that, they will devote their full production capacity to the much more real-world-applicable Model S sedan.
The S will get 300 miles to a charge and will start at $57,000, putting it on par with other luxury sedans on the market. Not to mention that the federal tax credit knocks the purchase price down to the high forties. Not bad for the burgeoning electric vehicle revolution!
Special thanks to Sally and Kyle at Tesla for taking the time to teach us about these amazing cars. We'll be back … for a test drive.